Hi, I love the Wio Terminal! I´m strugglin with this sketch, adapting, working from 0… no good luck, I am doing something wrong with BLE.
I have several of them so the blue address must be involved.
The manufacturer gave the code for python in: https://github.com/OpenWonderLabs/python-host/blob/master/switchbot_py3.py
It works with iOS-android nRF connect.
I would like to activate de Press Command in the switchbot in a similar way than in this gif.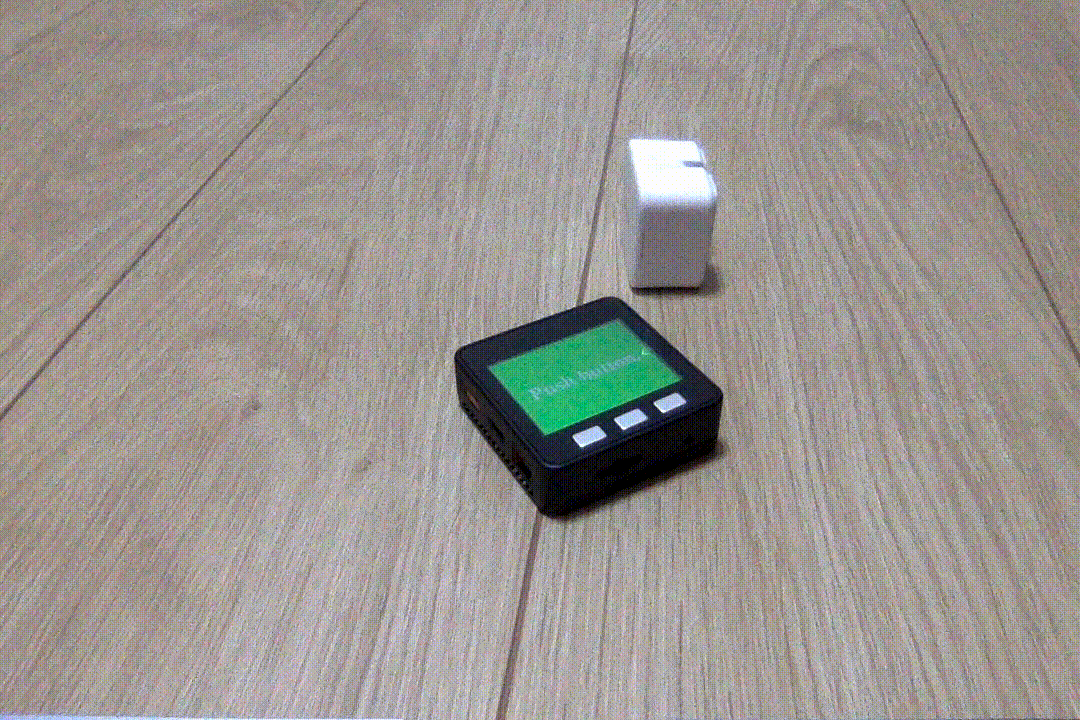 If anyone could help me I would be really happy.
This is the sketch and some notes:
#include "BLEDevice.h"
#include "Seeed_erpcUnified.h" //not sure if needed

#define SWITCHBOT_MAC "C8:39:2E:90:32:31"
//#define SWITCHBOT_MAC "31:32:90:2E:39:C8" //REVERSE MAC ADRESS

static BLEUUID serviceUUID("CBA20D00-224D-11E6-9FB8-0002A5D5C51B"); //same for all switchbots
static BLEUUID characteristicUUID("CBA20002-224D-11E6-9FB8-0002A5D5C51B"); //same for all switchbots

static BLEAdvertisedDevice* myDevice;

  //commands = {
    //    'press' : '\x57\x01\x00',  
      //  'on'    : '\x57\x01\x01',
        //'off'   : '\x57\x01\x02',
        
static uint8_t cmdPress[3] = {0x57, 0x01, 0x00}; //Command to send. Works in iOs-Android with nRF Connect APP

uint8_t bd_addr[6] = {0x31, 0x32, 0x90, 0x2e, 0x39, 0xc8}; //REVERSE MAC ADRESS HEX
BLEAddress BattServer(bd_addr); //not sure if needed

bool pressSwitchBot() {

  bool result;
  BLEClient*  pClient  = BLEDevice::createClient();
  result = pClient->connect(myDevice);
  Serial.println(myDevice->getAddress().toString().c_str()); //wrong bl address returns here
  
  if (!result) {
    delay(2000);
    return (false);
  }

  BLERemoteService* pRemoteService = pClient->getService(serviceUUID);
  if (pRemoteService == nullptr) {
    pClient->disconnect();

    delay(2000);
    return (false);
  }

  BLERemoteCharacteristic* pCharacteristic = pRemoteService->getCharacteristic(characteristicUUID);
  if (pCharacteristic == nullptr) {
    pClient->disconnect();
    delay(2000);
    return (false);
  }

  pCharacteristic->writeValue(cmdPress, sizeof(cmdPress), false);

  pClient->disconnect();
  delay(2000);
  return (true);
}

class MyAdvertisedDeviceCallbacks: public BLEAdvertisedDeviceCallbacks {
    void onResult(BLEAdvertisedDevice advertisedDevice) {
      if (advertisedDevice.haveServiceUUID() && advertisedDevice.isAdvertisingService(serviceUUID)
          && advertisedDevice.getAddress().equals(BLEAddress(SWITCHBOT_MAC))) {
        Serial.println(advertisedDevice.getAddress().toString().c_str()); // if specified device found, print its MAC address to serial console.
        BLEDevice::getScan()->stop();
        myDevice = new BLEAdvertisedDevice(advertisedDevice);
      }
    }
};

void setup() {
  Serial.begin(115200);
  pinMode(WIO_KEY_A, INPUT); //set button A pin as input
  delay(10);
  Serial.println("Starting Arduino BLE Client application...");
  BLEDevice::init("");
  BLEScan* pBLEScan = BLEDevice::getScan();
  pBLEScan->setAdvertisedDeviceCallbacks(new MyAdvertisedDeviceCallbacks());
  pBLEScan->setInterval(1349);
  pBLEScan->setWindow(449);
  pBLEScan->setActiveScan(true);
  pBLEScan->start(5, false);

}

static uint32_t count = 0;

void loop() {
  if (digitalRead(WIO_KEY_A) == LOW) { //check whether button A is pressed
    Serial.println("Press Swichtbot");
    pressSwitchBot();
    delay(2000);
  }
}