I got the reServer i5-1135G7 version in November 2021 and I've been using it as my main server running PopOS 21.04. The machine performs wonderfully and looks super cool.
However, the fan that comes with it sucks. It emits a high pitched sound that is absolutely unbearable and gets even worse when the fan spins up. I have the reServer sitting in a closet with the door closed and I can hear the high pitch sound through the door.
I decided to replace the bottom fan with a Noctua NF-A9 PWM 92mm fan and it was completely silent. Under full load, all I hear is a low 'swoosh' sound - far better than the high pitch whine from the default fan.
Although the temperature remained below the CPU's thermal throttle threshold, I didn't like how high it was reaching under load and I would prefer to have a little redundancy. So I decided to add a second fan. With this setup, I get great airflow, low noise, and redundancy.
This is what it looks like: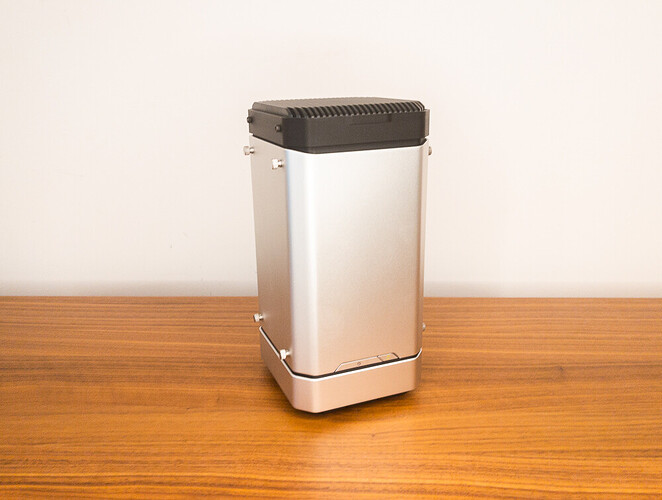 I designed the fan bracket, in the same design language as the case, and 3D printed it in PETG. Inside the bracket houses a Noctua NF-A9x14 (92mm x 14mm) fan. This sits snugly where the top cover used to be and the original top cover sits on the top of the bracket.
I added 4x M3 heat set inserts into the bracket so I can use the original thumbscrews to secure the bracket to the case and use 4x M3 8mm hex screws to secure the original top cover to the bracket.
**I'm making the 3D model available on my website for free so you can print your own: **
https://dickson.industries/products/reserver-fan-bracket
You'll need to 3D print this with supports. I use Prusa Slicer. Recommended material is PETG. Make sure you set the "Support Material" > "Overhang threshold" setting to 20 degrees to prevent unnecessary printing of supports.
Hope you find this helpful. Enjoy!