Hello,
I have one lora-e5 grove board and want to program its stm32 MCU. I can connect it to an ESP32 dev board via UART and use Arduino to program it and send data. But I want to use its own MCU without any esp32 board. To do this, I got a STLink v2 programmer and connected the board to it as follows: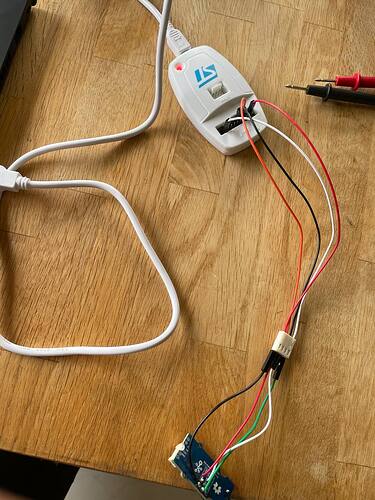 (the forum doesn't allow me to put multiple image sin one post. The images will be in the comments)
I used the following diagram (found it over the internet but don't remember the source):
[image 1]
When I use stm32CubeProgrammer to detect and connect the board, it fails:
[image 2]
I'm not sure even if it is possible to detect and program the lora-e5 grove using stlink or not. Maybe the board needs sth more, as I see all the people use it as the lora module with another board with external MCU.
The board is almost the same as lora-e5 mini but without mini-usb parts. Am I missing sth? How can I solve the problem?
Thank you