We have released Wio Terminal last week and got a lot of feedback from our lovely customers. Glad you liked it!
Today we bring you a new extension board for Wio Terminal: The Wio Terminal Battery Chassis. It is a must-have extension board for Wio Terminal Dev Board as it provides an external power source for Wio Terminal to enhance its portability and compactness.
It has a 650mAH rechargeable lithium polymer battery, 4 Grove Analog/Digital Ports, 1 Grove I2C Port, and 1 Grove UART Port, as well as the ABS enclosure for aesthetic and protection. There is also the same Raspberry Pi 40-pin compatible GPIO at the back of the Wio Terminal Battery Chassis for more add-ons!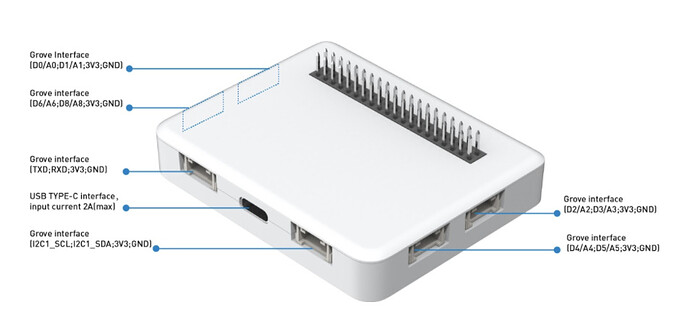 We are planning to develop more extension boards for Wio Terminal in the future. There are countless choices and we just listed a few of them with possible on-board add ons below. Let us know which one you prefer and what function is a must-have for you! Please leave a comment and don't be hesitate to tell us if you have more ideas. We are open to suggestions and will take action accordingly.
Chassis - Battery: Built-in lithium battery with 6 Grove interface
Chassis - LoRa: SX1262 LoRa Module, 22dBm, 850-930MHz Transceiver, SMA antenna
Chassis - Audio: I2S Encoder/Decoder, n * microphones, MIDI Jack or 3.5mm Jack
Chassis - Battery Plus: 12V Booster, 2000MAh, Motor Driver
Chassis - RS485 Converter
Chassis - Ethernet: W5500, POE
Chassis - CAN Bus: RJ45, OBD-II, Screw Terminal