Hi all, I have a Grove Voltage Divider that I'm using to measure the battery percentage of a 3s LiPo battery but I'm receiving readings that are both inconsistent with my voltmeter (showing 12V+ input when it should be 11-12V) and unstable (frequent wild outliers plus a weird "cliff" where the voltage readings drop by ~1V for some period of time then go back up again). Voltage divider setting is 10 as when I had it on 3 it kept tripping the over-voltage red light, claiming that the voltage was 13.2V+ (voltmeter claimed it was 12.4V, exactly as the balance charger said as well).
See the graphed results here: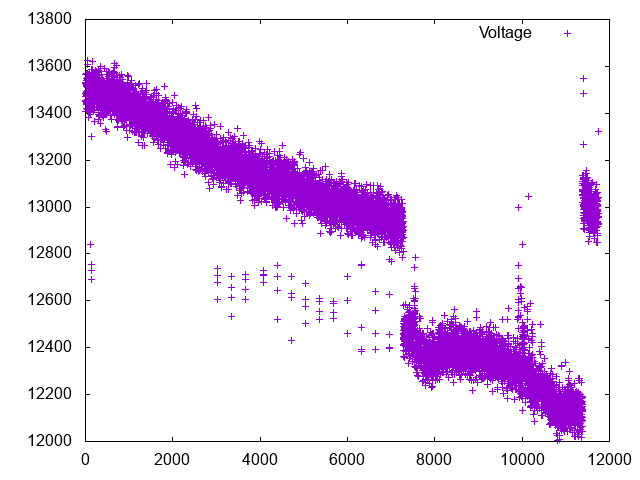 This data comes from a simple Python script very similar to the example:
The 3s LiPo battery began fully charged at 12.4V (so immediately the first set of readings are not plausible), and ran continuously drawing current into a motor for a few hours, depleting down to 11.2V toward the last samples in the dataset.
Any insights here or anything I could try to repair these readings? Especially the strange cliff is going to be very difficult to work around as I won't be able to know if I'm experiencing one of those cliffs or whether I should adjust the result up or down.