Hi,
I have recently purchased the following gateway device. This device is a Raspberry Pi Compute Module 4 gateway.
Gateway Device:
EdgeBox-RPI4-A-4G32G-WiFi-p-4971 on seed website
This gateway device comes with a Mini PCI Express which a modem can be plugged into. The following modem has been plugged into the gateway, RAK8213 BG96
https://media.digikey.com/pdf/Data%20Sheets/Pi%20Supply%20PDFs/PIS-1047_Web.pdf
After plugging the modem in and powering, I followed the steps from the supporting documentation
(Check first link to seed web, (link limit))
Test Device Software Info
Linux Kernel Version 5.4.20
Python 3.8 & 2.7 installed
Serial Interface and SSI is all enabled in sudo raspi-config
Obervations
After completion of instructions only the green light on the modem chip was illuminated, the led light to indicate power to the 4G chip never turned on.

running lsusb I can't see any device that is a modem

dmesg has no mention of a modem device

ls /dev/ttyUSB* , doesn't show any new USB devices
From these observations it appears that the Pi is not recognising or reading the modem at all.
Next Steps Taken
Update Driver - PCI Port
Realtek Driver downloads to see if the PCI Express wasn't reading properly
2.5G Ethernet LINUX driver r8125 for kernel up to 5.6 - Realtek
Installed with makefile, modem still not detected
Update Driver - Modem Chip
RakWireless Github Page

Following this installation tutorial for the RAK8213
Code modified to turn gpio pins 5 & 6 to value of 1 instead of 0
After running makefile and reboot, device still not found.
Change value of more pins
In the documentation it identifies other pins to be for the 4G power, mapping these pin numbers to gpio pins from the Compute Module 4 Datasheet gives the following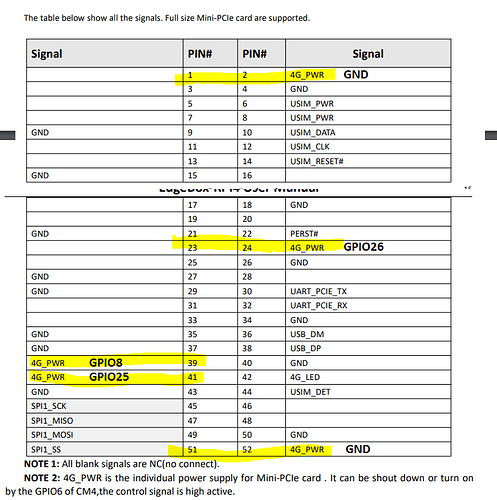 These pins where also activated to 1
4G Modem Still undetected
Try another device
Another device was setup
Kernel Version 5.4.17
Python 2.7 installed
Interfaces activated in sudo raspi-config
GPIO pins 6 & 5 activated
Modem not detected
After this I am stumped not sure what else I can try to get the modem to be read from the device, weird part is that it definitely is powered and turning the GPIO pins 5 & 6 to 0 turns the light off.
Would really appreciate a response as I am meant to have the devices deployed on site by the end of the week.
Best Regards,
Anton