Hi all,
working on some customization of the latest DSO Quad "SYS" and "APP" source codes something went wrong after the uploading of a HEX file to the DFU disk, because now my DFU Bootloader has been corrupted and I'm unable to use my great DSO Quad since it shows a corrupted image (see the image below) and it isn't recognized anymore by the PC as a DFU disk (used for Firmware upgrade) !!!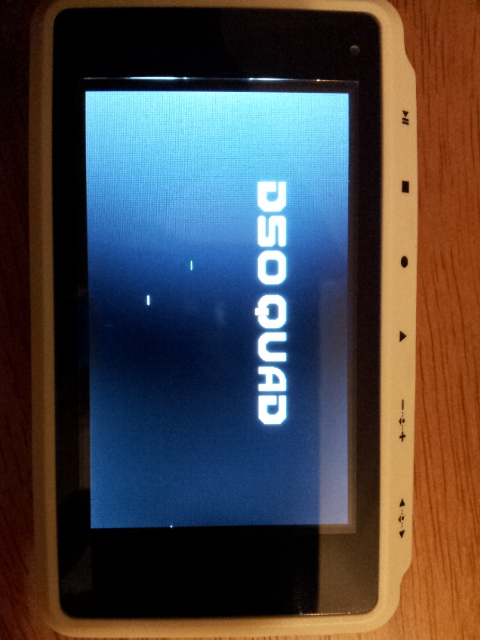 But looking at the schematic I have noted that there is the possibility to change the STM32 Boot mode !!!
In this way you can choose to make the STM32F103 boots from the USART1 instead of, as per default from the embedded Flash

Then you can use the ISP connector pins (CN7 of the schematic) to read (make also a backup) or write the embedded Flash memory through a free tool made by STMicrolectronics called "Flash Loader Demonstrator".
Even if through this you have the FULL access to the entire Flash memory, unfortunately the SeeedStudio DFU bootloader image file is NOT available so the bootloader recovery is IMPOSSIBLE !!!

So can someone of the SeeedStudio kindly post ONLY the DFU file image (not the source code) so to allow me and potentially other people that can break their bootloader to recover it ?
Otherwise could PLEASE someone connect a RS232 transceiver (TTL levels) to CN7 connector of a working DSO QUAD (short-circuit the PIN1 and PIN2 so to select the USART1 boot mode, then connect PIN4=RX, PIN5=TX, PIN6=GND) and using the Flash Loader Demonstrator tool (downloadable from the following link : st.com/internet/com/SOFTWARE … um0462.zip ) make a dump of the embedded Flash content from 0x08000000 to 0x08004000 and post it on the forum ?
Many thanks in advance to everyone!