Does anyone know where I can buy a replacement battery for the quad? Or an equivalent part number?
Thanks,
Allen
PL384070 (original): Li-Polymer, 1000 mAh, 3.8х40х70 mm
Here you can find an equivalent battery:
http://www.eemb.com/Li-Polymer_battery/Li-Polymer-Standard_Version.html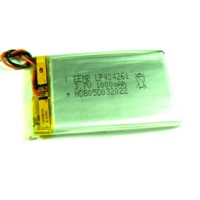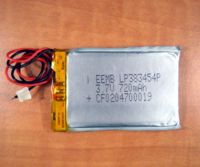 Thanks for researching this. I've looked at these. The POW101C1M on Seedstudio's site is 5mm thick - I'm worried it is too thick.
The LP404261 in the image you posted has the protection circuit and wires with a connector, but on eemb site it just has the two foil tabs. Where did you get that image?
Thanks again!
Allen
Thanks alvadep!!! I couldn't find one anywhere.
It appears that these two batteries are small enough to fit in the DSO Quad's opening #LP383454 and LP383560. I see this note on the below web page "# means the battery is UL certified and has ready mold." I don't know what the ready mold thing means. They have slightly lower mAh ratings, however mine ballooned on me so I now has a 0 mAh battery. I've inquired with eemb to see how I obtain the #LP383454 which has 700mAh and fits in the opening.
Those don't appear to have the protection circuit board installed.
You can buy lithium polymer cells with circuit board already installed on eBay. Some eBay sellers will install the connector if you provide details/photos.
I measured the compartment to take up to 43mm x 72mm pack. Max thickness 4.0mm. I found cells on eBay that would fit with a capacity up to 1200mAh.
For the DSO connector, you need a Micro JST 1.25mm 2-pin connector. I couldn't find a suitable crimper tool, so best to have the supplier install the connector or buy pre-wired connectors.
I purchased a 404060 3.7V Lipo ($10.99USD with shipping) and pre-wired micro JST connectors (20pcs $2.39USD with shipping), both sourced on eBay from sellers in China. Lipo was shipped by Sweden Post.
I carefully removed and reused the kapton tape. Make sure the red/black wires are correctly polarized in the connector before soldering the wires to the battery protection circuit. I had to reverse the wire positions on my pre-wired connector.