Hello. I ordered PCB Order Number : 210515152000 from 2021-05-15 .Status still pending. When you will made my order???
Hi Vitaly_Razygraev,
Thanks for your message, the order is pending because the engineers had a question regarding your files but we didn't get a response yet. Could you contact customer service or log into your account and respond to the engineers directly?
Many thanks
I am ordering sensecap M1 device, frequency code is AU915, can it be used in Vietnam, please reply me soon
Hello. I dont see any questions in my account. How i can contact with the engineers?
Hi Vitaly,
Let me know if it is ok to send you an image of your boards here. The problem is to do with the line in the middle of the boards. They look like milling slots because they have a line of stamp holes running between them:
Are these milling slots? If so, they are too small to produce; the smallest milling bit we have is 0.8mm. Shall we enlarge the width to 0.8mm or perform a v-cut here instead?
I am not sure why the problem is not appearing on your order history. You should be getting e-mail notifications everytime we send a reminder though. Did you receive these?
Hi Hoanh,
Sorry! I don't think this is the right place to ask about SenseCAP. I believe there is a dedicated Discord channel for this.
Copying Lily's comment from elsewhere "…could you please go visit SenseCAP M1 Official Discord where you can get tech support directly for inquiries about SenseCAP M1 Gateway from the dev team and the whole community. Thanks. Link to the Official SenseCAP MX Community: https://discord.gg/XM3tXCpMTq"
Hello. I dont recive any e-mails from you.
Also i cant log in in to sense cap comunity, sms does not come.
I not shure what does you mean. But you have done this for my before.
Here is photo of the bords.
Can you made the same please? If this photo do not help you. You can send me your photos no prob.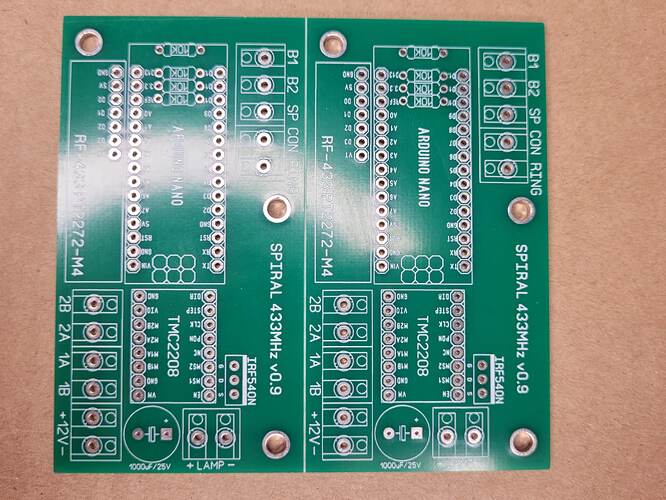 Lovely, thank you. That's a v-cut then. I've passed on the message and we'll get the boards out asap. Sorry for the wait! I would upgrade your shipping to something faster but it seems it's not available to your country

PS: the SenseCAP thing was for Hoanh, hope he found the right place.
Hi again,
I had the IT team take a look and they found the message under All Orders. If you click Fusion orders then it does not appear because this tab is obsolete and will be deleted soon. We also found records of the e-mail notifications sent. Perhaps they went to the spam folder?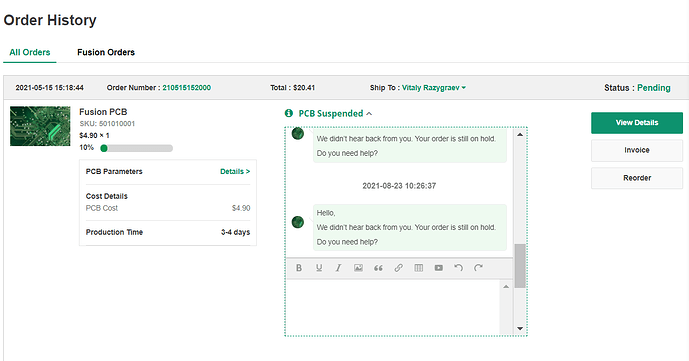 Goodness! It has been some time now. Try this:
4PX Tracking (parcelsapp.com)
It says your parcel has been in Moscow since the 23rd of September. There might be a problem with customs. Did you receive any message from the courier?