#WishList

Product cooking time. We're designing a Vehicle Monitoring Device based on a Seeed LoRa E5 and CAN Bus. With this module, you can build a LoRa sensor network where you can use the onboard CAN Bus to read the sensor data of the car and send the data back through LoRa. The device will come with the following features:
1⃣️ LoRa-E5 module
2⃣️ CAN Bus communication, MCP2515, and SN65HVD230
3⃣️ A variety of power supply methods, lithium battery, USB, and 7-28V DC input, as well as a solar panel input connector
4⃣️ USB to serial function, using USB to communicate with the board
5⃣️ Low-power design, the CAN Bus power on the board and the output power can be turned off through the MOS FET to save power
6⃣️ Two Grove connectors for easy access to the 300+ Grove modules
7⃣️ Optional u-FL and SMA antenna

Do you like this design? Shall we scale it up to make it available in our official store? What other features/IOs/functions that you'd love to add to this product? Any price suggestions? Shout-our your voices in this forum discussion​:point_down:. Or if you prefer, feel free to join our Discord for a more in-depth discussion.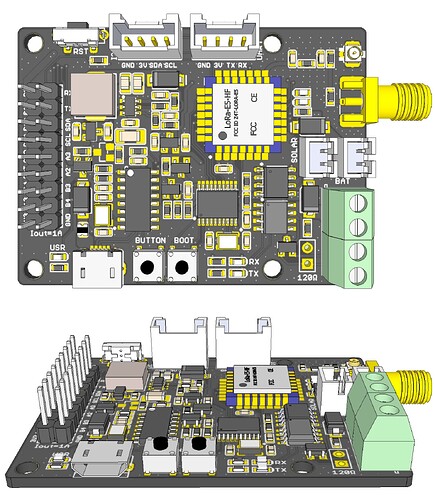 One more piece of good news for those who want to scale up your LoRa E5 projects, Seeed Fusion is running a LoRa E5 Sponsorship where you can apply to get 2 PCBA boards manufactured 100% completely FREE for your LoRa E5 design. Check out more: POWER-UP PCBA #16 Invigorate your Inspiration for IoT with LoRa-E5 and FREE Seeed Fusion PCBA Prototypes - Latest Open Tech From Seeed
#LoRaE5 #CANBus #SeeedFusion #IoT #CarHacking #VoiceNeeded