I'm trying to network boot the odyssey board using UEFI HTTP Boot, my ISP DHCP server and a proxyDHCP server.
In the following screenshot, you can see the DHCP Offer from my proxyDHCP (192.168.1.1) and the DHCP Offer from the ISP DHCP server (192.168.1.254):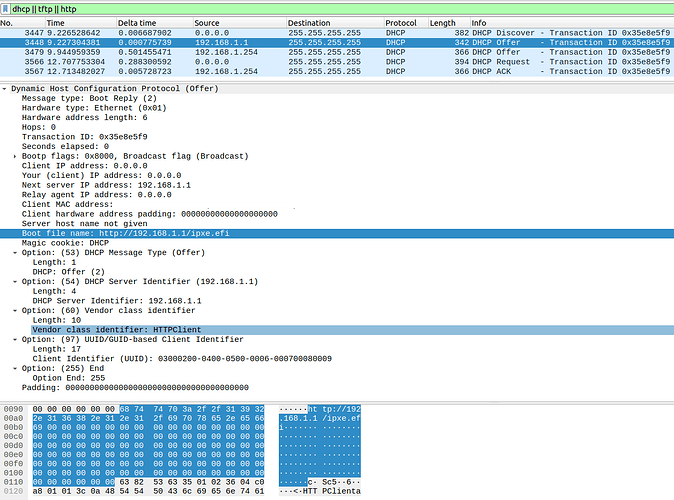 Unfortunately, the Odyssey board seems to assign the IP address given by the ISP DHCP Server, BUT immediately returns to the boot menu and ignores the proxyDHCP DHCP Offer, thus, failing to boot. Here's a video of it trying to boot:
Please note that this same setup works fine with a Raspberry Pi 4 (using the GitHub - pftf/RPi4: Raspberry Pi 4 UEFI Firmware Images firmware).
Please note that the equivalent of DHCP+proxyDHCP works fine when I use PXE TFTP Boot instead of UEFI HTTP Boot. Also note that the equivalent of DHCP (without proxyDHCP) and HTTP Boot also works fine. So it seems this only stops working when there is a proxyDHCP sending another DHCP Offer.
Do you known why this happens?
Can you help me troubleshoot/fix this?
Thank You!