I am using a Grove-Strip Driver with a 12V RGB LED strip with 3LEDs eith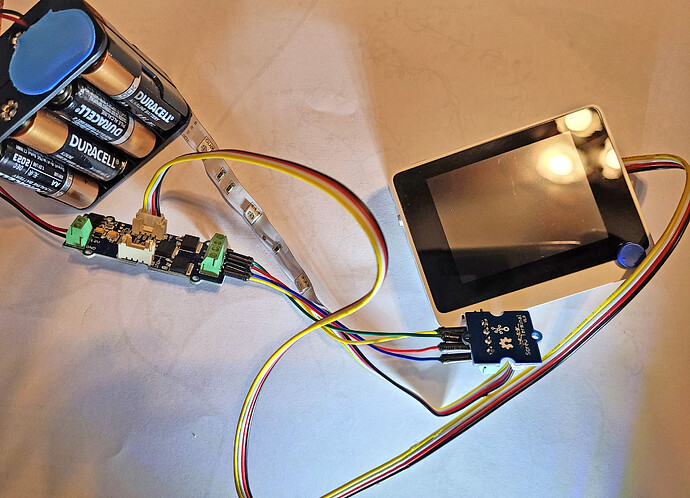 er from a Grove or RePhone kit.
External battery source 12V connected to Strip Driver.
I tried the same code below on my Arduino UNO with Grove hat and it works fine but not on WIO TERMINAL?? . (I changed the pins to D2,D3 instead of 0, 1 for WIO Terminal, However, I did put the WIO Battery and tried D2, D3)
What am I doing wrong?
#include "RGBdriver.h"
#define CLK 0 //2 pins definitions for the driver
#define DIO 1 //3
RGBdriver Driver(CLK,DIO);
void setup()
{
Driver.begin(); // begin
}
void loop()
{
Driver.begin(); // begin
Driver.SetColor(255,0,0); //Red. first node data
Driver.end();
delay(1000);
Driver.begin(); // begin
Driver.SetColor(0, 255, 0); //Green. first node data
Driver.end();
delay(1000);
Driver.begin(); // begin
Driver.SetColor(0, 0, 255);//Blue. first node data
Driver.end();
delay(1000);
Driver.begin(); // begin
Driver.SetColor(150, 150, 155);//Blue. first node data
Driver.end();
delay(1000);
}