SEEED
For years, Seeed has developed nearly thousands of Open Source Hardware modules in the purpose of helping makers to grow their inspirations into prototype or differentiating products. As a company, we've kept being the China's largest hardware innovation platform, as a team, we were born as a group of passionate young makers. Beyond providing high-quality services to makers, we never stop engaging with makers to understand what they need the most; ''Makers for Makers'', that is the very attitude we've been persistently keeping in our maker business.
RECIPE
'Recipe' is another maker-oriented project we wish to achieve this year. We built 'Recipe' as a community of open source solutions for reference and field use. At 'Recipe', makers can freely share their knowledge and insight, creative ideas and amazing works, and take part in challenging projects, make friends with like-minded people. By following the step-by-step guidance, you can build up your project and experience the ecstasy of a maker. As a product framework from atoms to bits, recipe enables makers to achieve their goals with a systematic and logical approach. Also, it serves as a portal between prototype and production, which assists makers in turning their inspiration into reality.
ALPHA USERS
Since online in March, the 'Recipe' community has been significantly improved owing to the contributions from our Alpha Users, they've made a lot of efforts on it while kept feeding us valuable suggestions and feedback. Most of them has now became the Core Users of Seeed and established a long-term relationship with us.
Now in order to bring more fun to the community, we are calling up Alpha Users again. And this time, we've prepared even more gifts for our new Alpha Users.
So, makers, hackers, engineers and artists, whatever you are, whatever you've made, as long as you have something you want to share with us, you can join our First 100 Alpha User Group and win a prize from us.
CUTEST PRIZE, EVER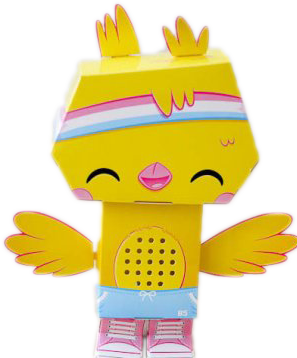 Seriously, I can't stand working with my table taken up by a bunch of cute prizes, I am thinking about taking some home for myself, so you guys better hurry up XD.
This time we've prepared 30 kits of Readiymate Electronic Pack with a lot of lovely Readiymate sculptures, must be wonderful to have one on the desk, isn't it?
So, as always, the first come, first serve. Hurry up, post your First Completed recipe to become our Alpha User.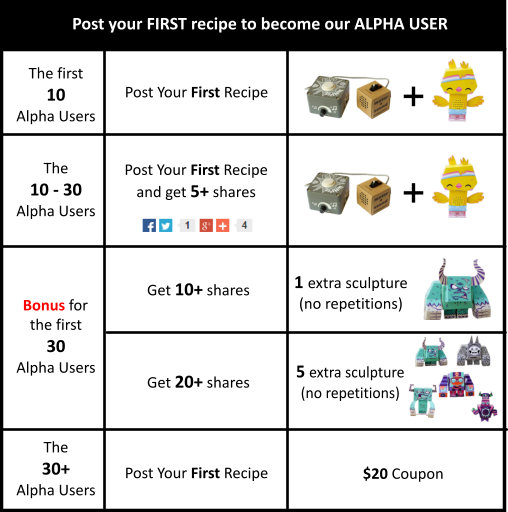 The first 10 new Alpha Users would receive a kit of Readiymate Electronic Pack(worth $129) with a random version of Readiymate sculptures (worth $19) for their first recipes

If you missed the first 10 opportunities, don't worry, you can still get your prize as there are 20 kits left, but you may need to do a bit more than that. Try to get at least 5 shares on any SNS for your first recipe, then the prize will be yours

Bonus: For those of you have more than 10 shares, you will get One more Readiymate sculptures (different from the other one you already get)

Bonus: For those of you have more than 20 shares, you will get Five more Readiymate sculptures (no repetitions)

Well, if you still missed all the Readiymate Packs, we have $20 coupon for you as you post your first recipe
NB: The recipe posted has to be completed project. Any ongoing project will not be counted.
This event ends till we gather 100 Alpha Users.
So, what are you waiting for?
PS: For further questions please contact recipe@seeed.cc.