Nordic nRF54L15 Cortex-M33 wireless MCU halves Rx power consumption over nRF52 chips
Nordic Semiconductor has recently unveiled the 128 MHz nRF54L15 Cortex-M33 multi-protocol wireless microcontroller, the first from the nRF54L Series, and the second from the wider nRF54 family after the more powerful 320 MHz nRF54H20 dual-core Cortex-M33 MCU was introduced last Spring.
While the nRF54H20 was designed to enable new types of IoT devices with a leap in performance and lots of resources with up to 2 MB flash and 1MB SRAM, the new nRF54L15 aims to be an upgrade to the nRF52 series with twice the performance and much better power efficiency, with for instance, half the Rx power consumption over its predecessor.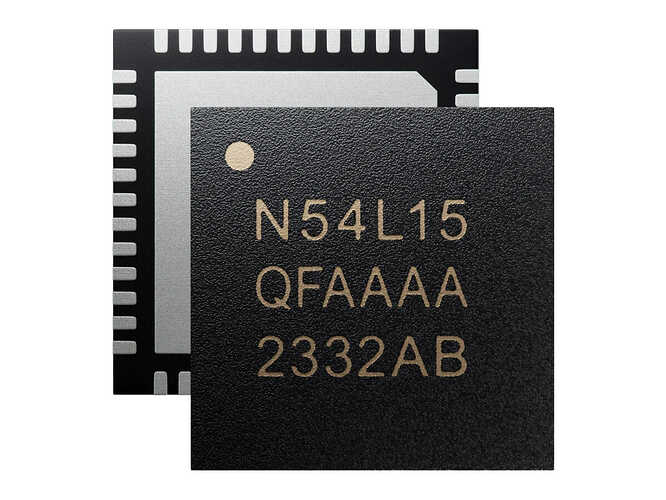 Nordic Semi nRF54L15 key features and specifications:
CPU

Arm Cortex-M33 @ up to 128 MHz with up to 1.5 MB Flash + 256 KB SRAM
RISC-V coprocessor for "software-defined peripheral"

Wireless

Bluetooth 5.4 LE with direction-finding, Bluetooth mesh, etc… Ready for future Bluetooth releases
802.15.4 radio for Thread, Matter
Proprietary 2.4 GHz up to 4 Mbps
-96 dBm RX sensitivity @ 1 Mbps for Bluetooth LE
Up to 8 dBm TX power

New peripherals

Global RTC
14-bit ADC
Software-defined peripheral

Security

Designed for PSA Certified Level 3 IoT security standard
TrustZone isolation, side-channel protection, and tamper detection

Power consumption – Rx current consumption is half that of the nRF52840
Packages – QFN48 (6×6 mm) and WLCSP (2.4×2.2 mm)
Manufacturing process – TSMC's 22ULL (22 nm) process technology
Hay SEEED How about youu guys in Engineering Get off your duff and Use this chip in the Next Xiao Release and Get it Right this time without all the half steps in the current Line, IMO
WE deserve it as Users of this stuff.
For Once be ahead of the Curve & Pack instead of playing catchup to Adafruit and Dfrobot and some others. C'mon MAN Do it, Do it NOW!!!

link to all the info…
The Future …