Hi there,
Any qualified SEEED Personnel willing to comment on this being the current revision the Xiao is sporting? Are we Using the aQFN73 package under the Lid?
are these the current spec's according to Section 9?, I'm somewhat confident in the information from Nordic Semi. Need some idea from SEEED Eng.
9 Absolute maximum ratings
Maximum ratings are the extreme limits to which the chip can be exposed for a limited 
amount of time without permanently damaging it. Exposure to absolute maximum ratings for prolonged periods of time may affect the reliability of the device.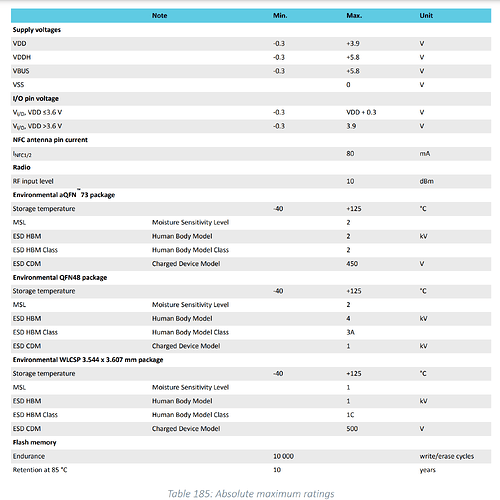 along with the Feature List.
Features:
• Bluetooth ® 5, IEEE 802.15.4-2006, 2.4 GHz transceiver
• -95 dBm sensitivity in 1 Mbps Bluetooth ® low energy mode
• -103 dBm sensitivity in 125 kbps Bluetooth ® low energy mode (long range)
• -20 to +8 dBm TX power, configurable in 4 dB steps
• On-air compatible with nRF52, nRF51, nRF24L, and nRF24AP Series
• Supported data rates:
• Bluetooth ® 5 – 2 Mbps, 1 Mbps, 500 kbps, and 125 kbps
• IEEE 802.15.4-2006 – 250 kbps
• Proprietary 2.4 GHz – 2 Mbps, 1 Mbps
• Single-ended antenna output (on-chip balun)
• 128-bit AES/ECB/CCM/AAR co-processor (on-the-fly packet encryption)
• 4.8 mA peak current in TX (0 dBm)
• 4.6 mA peak current in RX
• RSSI (1 dB resolution)
• ARM ® Cortex ® -M4 32-bit processor with FPU, 64 MHz
• 212 EEMBC CoreMark ® score running from flash memory
• 52 µA/MHz running CoreMark from flash memory
• Watchpoint and trace debug modules (DWT, ETM, and ITM)
• Serial wire debug (SWD)
• Rich set of security features
• ARM ® TrustZone ® Cryptocell 310 security subsystem
• NIST SP800-90A and SP800-90B compliant random number generator
• AES-128 – ECB, CBC, CMAC/CBC-MAC, CTR, CCM/CCM*
• Chacha20/Poly1305 AEAD supporting 128- and 256-bit key size
• SHA-1, SHA-2 up to 256 bits
• Keyed-hash message authentication code (HMAC)
• RSA up to 2048-bit key size
• SRP up to 3072-bit key size
• ECC support for most used curves, including P-256 (secp256r1) and Ed25519/Curve25519
• Application key management using derived key model
• Secure boot ready
• Flash access control list (ACL)
• Root-of-trust (RoT)
• Debug control and configuration
• Access port protection (CTRL-AP)
• Secure erase
• Flexible power management
• 1.7 V to 5.5 V supply voltage range
• On-chip DC/DC and LDO regulators with automated low current modes
• 1.8 V to 3.3 V regulated supply for external components
• Automated peripheral power management
• Fast wake-up using 64 MHz internal oscillator
• 0.4 µA at 3 V in System OFF mode, no RAM retention
• 1.5 µA at 3 V in System ON mode, no RAM retention, wake on RTC
• 1 MB flash and 256 kB RAM
• Advanced on-chip interfaces
• USB 2.0 full speed (12 Mbps) controller
• QSPI 32 MHz interface
• High-speed 32 MHz SPI
• Type 2 near field communication (NFC-A) tag with wake-on field
• Touch-to-pair support
• Programmable peripheral interconnect (PPI)
• 48 general purpose I/O pins
• EasyDMA automated data transfer between memory andperipherals
• Nordic SoftDevice ready with support for concurrent multiprotocol
• 12-bit, 200 ksps ADC – 8 configurable channels with programmable gain
• 64 level comparator
• 15 level low-power comparator with wake-up from System OFF mode
• Temperature sensor
• 4x four channel pulse width modulator (PWM) unit with EasyDMA
• Audio peripherals – I2 S, digital microphone interface (PDM)
• 5x 32-bit timer with counter mode
• Up to 4x SPI master/3x SPI slave with EasyDMA
• Up to 2x I2 C compatible two-wire master/slave
• 2x UART (CTS/RTS) with EasyDMA
• Quadrature decoder (QDEC)
• 3x real-time counter (RTC)
• Single crystal operation
• Package variants
• aQFN™ 73 package, 7 x 7 mm
• QFN48 package, 6 x 6 mm
• WLCSP package, 3.544 x 3.607 mm <----- "Or is it this package"
I am particularly interested in the bolds,
I ask because the package may lead to what is available and supported.
TY
GL

PJ

just got three(3) more…