Hello
The new official firmware "AP3_P100" is available now ("AP1_P100" can be found on the chinese forum at http://www.minidso.com/forum/viewtopic.php?f=7&t=117).
It looks good, the feeling when navigating (responsiveness, design) is - at least in my opinion - much better than with 2.51.
My question to SeeedStudio (or to the developpers of the DSO Quad/203):
where is the manual for this firmware?
where can we download the source code?
There are some annoying bugs which we could maybe correct with the source code, like the signal generator (below: saw signal with 10kHz… alle signal types except square have a bad waveforms and a wrong frequency):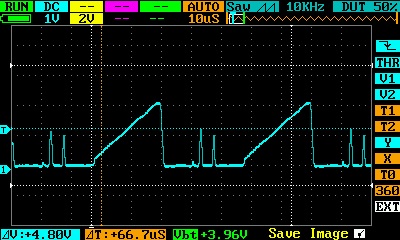 I think the measurements (Vpp and so on) are still a little wrong, too.
Patrick