I have 4 of the V1.2 Rainbowduino boards that I can't seem to get to work cascaded. I have searched around and I not seen anyone else post such a problem.
I doanloaded a unique image to each of the 4 boards so they have unique I2C addresses. I tweaked it a little to show the I2C address digit on startup. So now I have boards with addresses 4,5,6 & 7. They all work perfectly if they are used one at a time.
If I connect them like this I have a problem.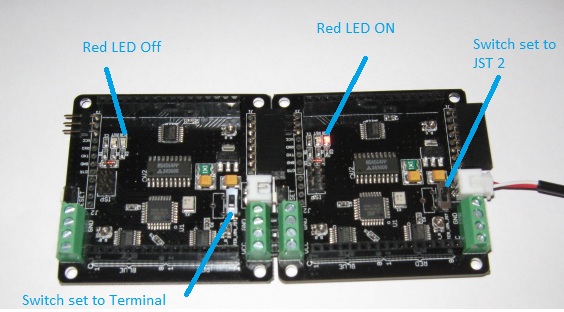 As you can see I have 2 of the boards connected without the 8x8 LEDs. I have cascade the power using the male pins so that the right and left boards are connected. The board on the right works fine but the board on the left is dark. I have checked the voltage on the terminal block (with and without the left board connected) and it is near zero.
I have tied all 4 boards as the board to get power directly and I get the same thing.
I assume I am doing something dumb but reading the manual has not helped. Any ideas.